"Experts have long believed in the link between happiness and well-being, and Coca-Cola is proud to have participated in happy moments around the world! "
I would lie if I said that Coca-Cola didn't taste good to me and I didn't drink it. Its taste, bubbles and ads work. The urge to take Coca-Cola and quench your thirst.
Everyone seems to have tried to compare the flavors of Coca-Cola and Pepsi. I did a survey on my social networks about who tastes better in a fierce battle, but Coca-Cola tasted better. If so, let it be up to us. I drink both drinks. I'm glad there is something to choose from.
Happy moments of joy - if it really is, read on in the blog article…
Coca-Cola
Coca-Cola or the full name The Coca-Cola Company is a carbonated beverage that is sold in stores, restaurants, vending machines and elsewhere. Today, it is the most popular soft drink in the world, and it is consumed by hundreds of millions of people every day. The well-known bottle shape and drink logo have become the best-known trade symbols in the world.
Coca-Cola is working to improve people's lives, from employees to those who affect its business, to the many communities they call home.
Coca-Cola uses about 200 brands - from Coca-Cola to Smartwater to Costa coffee.
There's not much to add, but everyone knows what Coca-Cola is!
History of Coca-Cola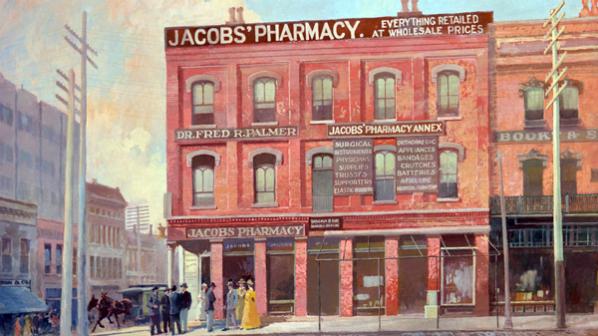 On May 1886, 8, Dr. John Pemberton taught the world's first Coca-Cola at the Jacobs Pharmacy in Atlanta, Ga. From this iconic drink, it has become a joint beverage company.
John Pemberton was inspired by simple curiosity. One afternoon, he stirred a fragrant, caramel-colored liquid and, when it was done, took it to a nearby Jacobs pharmacy.
The mixture was mixed with carbonated water, and everyone who tasted it agreed that this new drink is something special. At Jacob's pharmacy, it continued to sell for five cents (about 0,04 euros).
In 1888, Dr. Pemberton sold Coca-Cola to businessman Asa G Candler. Although it was invented by John Pemberton, it was actually a businessman named Asa Grigs Kendler who brought Coca-Cola to the masses. In 1888, he bought Coca-Cola from Pemberton for $ 550 (421 pounds) and traded it aggressively for millions. Under Mr Candler's leadership, Coca-Cola's distribution expanded beyond Atlanta.
In 1894, as the demand for Coca-Cola increased and the desire to make the beverage portable increased, Joseph Biedenharn installed a bottling machine in Mississippi. Bulk bottling took place only five years later, when in 1899 the exclusive right to buy Coca-Cola appeared. Three entrepreneurs buy sales rights from Asa Candler.
Coca-Cola name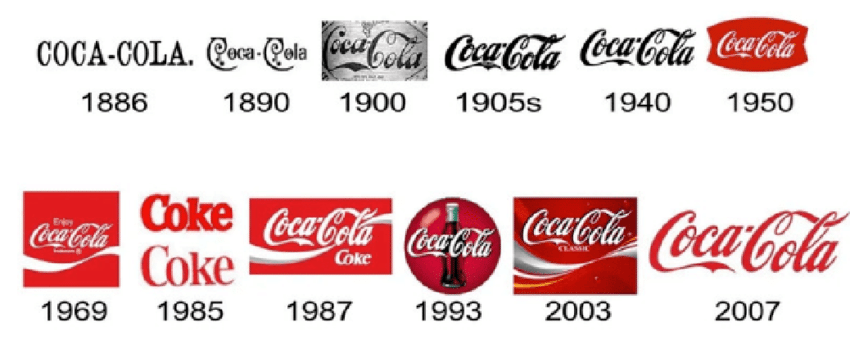 The company's accountant, Frank Robinson, called the drink "Coca-Cola" because he thought the two C's would look good in commercials.
The name Coca-Cola is born from two ingredients in the drink: cocaine from the tree and caffeine from the cola nut (alliteration was considered more marketable). The logo has not changed much since 1886, except for a few adaptations. The Spencerian font used for the first time is still visible in modern design - the most notable addition was the wavy underline.
Coca-Cola design history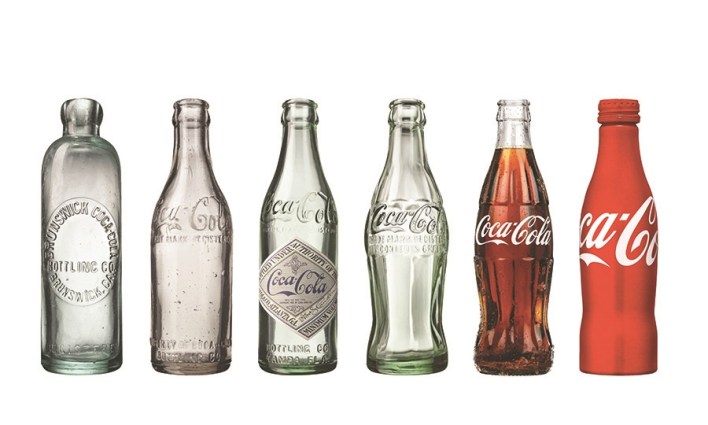 Bottle design tours began in 1915 and, as the company itself says, it is one of the most famous shapes in the world.
In 1899, two Chattanooga lawyers, Joseph Whitehead and Benjamin Thomas, went to Atlanta to negotiate the right to bottle Coca-Cola. And Thomas and Whitehead wanted to take advantage of the drink's popularity by bottling it so that it could be drunk outside the shops.
The Coca-Cola Bottling Company began franchising the right to fill Coca-Cola bottles in cities across the United States. Sales of both machines and bottles continued to grow, and this popularity led competitors to try to imitate the famous Coca-Cola brand in order to mislead the public into buying their drinks.
The bottles used in those days were simple rectangular bottles, usually brown or clear. The Coca-Cola company demanded that the bottle fillers print the famous Coca-Cola logo on each bottle. However, competing brands such as Koka-Nola, Ma Coca-Co, Toka-Cola and even Koke have shared or only slightly modified the Spencerian script logo. These bottles of competitors created confusion among consumers. While The Coca-Cola Company prosecuted for these violations, cases often took years, and bottlers constantly sought greater protection.
As a first step for bottlers, in 1906, The Coca-Cola Company introduced a diamond-shaped label with a colored trademark to highlight offenders. Unfortunately, Coca-Cola was often sold in barrels of ice-cold water, which led to labels got lost.
The real design of the Coca-Cola bottle
On April 1915, 26, the trustees of the Coca-Cola Bottle Association voted for a competition to design bottles.
The winner of the competition was The Root Glass Company, based in Terre Haute, Indiana. The design of the bottle onion was modeled on cocoa beans, an ingredient that is incorrectly considered to be Coca-Cola.
Interestingly, on the bottom of the bottle, had to print the name of the city that makes the glass order. These city names have entertained consumers for decades and made children compare which city bottle they have. It definitely happened collections.
I know that even today, there are people who collect Coca-Cola bottles from other countries where they have been.
Coca-Cola ads and slogans
In the 1980s, unforgettable slogans such as "Coka it is!", "Coca-Cola classic" - "Red, White & You" and "Coca-Cola" - "Catch the Wave" appeared; "I`d Like to Buy the World a Coke." (I want to buy Coca-Cola to the world.)
In 1993, Coca-Cola experimented with computer animation, and the popular "Always Coca-Cola" campaign was launched in an ad series featuring animated polar bears. Each animated ad in the "Always Coca-Cola" series lasted 12 weeks from start to finish.
In January 2003, the slogan "Coca-Cola… Real" was introduced. The campaign and slogan, in turn, reflect the true, authentic moments of life and Coca-Cola's natural role in them.
The Open Happiness campaign was launched in 2009, the main message of which is a call to interact around the world to stop, refresh with Coca-Cola and continue to enjoy some of the simple joys of life. Open Happines has been featured in stores, billboards, television sites, and print advertising along with digital and music components.
…………
Open Happiness was demonstrated at the 2010 Vancouver Winter Olympics, followed by the 2010 social media expansion, Expedition 206, an initiative in which three lucky ambassadors travel to 206 countries in 365 days with one task: to identify that makes people happy.
Every year, there is a child waiting for Coca-Cola ads and promotions - a bottle under a cork, a bow tie and a Coca-Cola caravan. The first trucks, the Coca-Cola convoy, were not even real. It was an advertisement created in 1995 by the American agency WB Doner and Featured.
2001: It's no longer just advertising. After many years of monthly advertising, the Christmas caravan became real, starting with a real trip to the United States. "Christmas is a family season, and that's the caravan's advertising spirit," said Ted Rian, a Coca-Cola employee.
In 2010, Great Britain gets its own caravan. The driver's trip debuted in the UK after a successful experience in Germany and across Europe. Millions of people have followed the journey, from villages to seaside towns.
In 2017, after more than a million kilometers and more than 300 stops around the world, the first Coca-Cola Christmas Truck begins its first journey across Australia.
Other slogans and advertising
1886 - Drink Coca-Cola
1904 - Delicious and Refreshing
1905 - Coca-Cola Revives and Sustains
1906 - The Great National Temperance Beverage
1922 - Thirst Knows No Season
1923 - Enjoy Thirst
1924 - Refresh Yourself
1926 - It Had to Be Good to Get Where It Is
1927 - Around the Corner from Everywhere
1929 - The Pause that Refreshes
1932 - Ice Cold Sunshine
1938 - The Best Friend Thirst Ever Had
1939 - Thirst Asks Nothing More
1939 - Whoever You Are, Whatever You Do, Wherever You May Be, When You Think of Refreshment Think of Ice Cold Coca-Cola
1942 - The Only Thing Like Coca-Cola is Coca-Cola Itself
1948 - Where There's Coke There's Hospitality
1949 - Along the Highway to Anywhere
1952 - What You Want is a Coke
1956 - Coca-Cola… Makes Good Things Taste Better
1957 - Sign of Good Taste
1958 - The Cold, Crisp Taste of Coke
1959 - Be Really Refreshed
1963 - Things Go Better with Coke
1969 - It's the Real Thing
1971 - I'd Like to Buy the World a Coke (part of the "It's the Real Thing" campaign)
1976 - Coke Adds Life
1979 - Have a Coke and a Smile
1982 - Coke Is It!
1985 - We've Got a Taste for You (for both Coca-Cola & Coca-Cola classic)
1986 - Red, White & You (for Coca-Cola classic)
1986 - Catch the Wave (for Coca-Cola)
1988 - You Can't Beat the Feeling
1989 - Official Soft Drink of Summer
1990 - You Can't Beat the Real Thing
1993 - Always Coca-Cola
2000 - Coca-Cola. Enjoy
2001 - Life Tastes Good
2003 - Coca-Cola… Real
2005 - Make It Real
Taste of Coca-Cola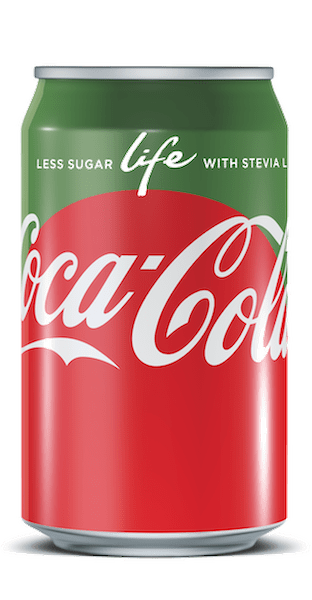 The Coca-Cola recipe is a closely guarded secret, saying it is locked in a high-security repository in Atlanta. But in 2011, a recipe was published that appeared in a 130-year-old notebook belonging to the inventor's best friend. The drink's 15 ingredients include cinnamon, neroli, coriander and nutmeg oil. Coca-Cola insisted it was an old recepte.
But, do you always have to know everything? If everyone drinks and tastes, then the rest may already remain unknown.
But what is / were Coca-Cola's taste?
Coca-Cola Energy
Coca-Cola Energy Zero Sugar
Coca-Cola Life
Coca-Cola Zero Sugar
Coca-Cola Vanilla
Coca-Cola Cherry
Coca-Cola Orange Vanilla
Diet coke
Coca-Cola Zero Sugar Orange Vanilla
Coca-Cola with Coffee
Coca-Cola with Lemon
Coca-Cola Light Sango
Coca-Cola Raspberry
Coca-Cola Orange
Coca-Cola Lime
Interesting facts about Coca-Cola
Coca-Cola was once issued free of charge. One of John Pemberton's first marketing efforts was to donate coupons. Between 1886 and 1913, one in nine Americans received a free sample of Coca-Cola.
As part of its marketing strategy to make Coca-Cola look better than its competitors, the company announced that the ideal temperature for serving the drink was between 1 ° C and 3,3 ° C. In 1919, the company even sent salespeople to new retailers to comply. these standards.
Coca-Cola may have invented many packages. Coca-Cola was not only one of the first brands to develop a modern way to bottle their products, but also introduced several packages early on. Noticing the tendency for buyers to buy more than one bottle at a time, it introduced a six-pack in 1923 so that consumers could bring several glass bottles home without breaking them.
Coca-Cola was the first sponsor of the Olympic Games. Coca-Cola sponsored the 1928 Summer Olympics in Amsterdam. The picture shows a Coca-Cola stand at Wembley Stadium in London during the August 1948 Olympics.
...........
Coca-Cola was sent to the troops as a very important thing. More than 5 billion bottles were distributed to US troops. Portable soda fountains were even taken to remote areas of the South Pacific.
Coca-Cola helped McDonald's grow. Wanting to become the largest fast food chain in America, Ray Crock, McDonald's manager, approached Coca-Cola in 1955 to form a partnership with an already well-established soda brand. McDonald's is now Coca-Cola's largest customer. The picture shows McDonald's advertising from 1975.
Coca-Cola was one of the first brands to change the size of the bottle.
Coca-Cola once tried to replace coffee. In the 80's, the brand tried to convince people that morning coffee should be replaced with cool and carbonated caffeine fixation. However, the campaign failed.
Coca-Cola was the first soft drink to be used in space.
Coca-Cola is a universal language. Coca-Cola claims that its name is the second most understood term in the world, and more than 94% of people recognize it. The key term is "Okey".
The first taste of Coca-Cola was red wine mixed with cocaine. Pemberton's inspiration for the drink was a popular composition invented in France called Vin Mariani. It was a blend of Bordeaux red wine and cocaine. In 1895, it was marketed as a tonic that "strengthens and refreshes the body and brain." However, the United States, especially the deep south, was in the middle of an anti-alcohol movement. This gave Pemberton the idea to make a drink for those who "abstained".

You and I certainly know that Coca-Cola is definitely not the healthiest thing I'm talking about here, a healthy drink. Many people think so, but they also use it. And use it not only for drinking, but also for rust, even sewer cleaning, etc. I feel like you are doing what you want, but it is a taste that cannot be forgotten!
"No matter who you are, what you do, wherever you are, when you think of refreshment, think of ice-cold Coca-Cola."
/ Coca-Cola /