Accept what life has to offer you and try to drink from each cup. All wines must be tasted; some should just sip, but drink the whole bottle with others.

P.Coelho
Everyone has their favorite taste among alcoholic and non-alcoholic drinks. Others call themselves juice experts, others cocktails and others wine experts. It is good that we are going to choose.
Which do you prefer? What is your favorite wine - red wine, white wine, rosé wine, etc.?
In this article we will look at the history of wine, how it is produced and what wineries are in Latvia.
What is wine?
Wine is an alcoholic beverage made from fermented grapes. There are also fruit wines or country wines that are made from fermented fruit. However, real and traditional wine is made from wine grapes.
What are the differences between the grapes we eat and the wine grapes?
The grapes we eat differ in varieties from wine grapes. Most wine grapes are from Vitis Vinifera species, while table grapes are made from Vitis Lambrusca or other species.
Edible or table grapes have a high yield, they have a large, thin skin, low sugar and acidity, and generally less taste.
Wine grapes give fewer vines. They are smaller than table grapes, thicker skin, more sugar and acidity, and generally more flavor. They give the wine its structure and taste.
There are thousands of developed grape varieties. They differ from each other in such characteristics as the color, size and shape of the berries; juice composition (including taste); ripening time; and disease resistance. They are grown in very different climatic conditions and use different processes in wine production. All these possible variations contribute to the wide variety of wines available.
Wine history
Egyptian records of the use of grapes in winemaking date back to 2500 BC, and many biblical references point to wine, the early origins of the industry, and its importance in the Middle East.
The Greeks were active in wine trade and planted grapes from the Black Sea to Spain in their colonies. The Romans grew grapes in the Rhine and Moselle valleys (which became the large wine regions of Germany and Alsace), the Danube (Romania, Serbia, Croatia, Hungary and Austria) and the Rhône, Zona, Garonne, Loire and Marne (defining the large French regions of Rhône, Burgundy, Bordeaux, the Loire and Champagne). The role of wine in the Christian mass helped to preserve the industry after the fall of the Roman Empire, and the monastic orders maintained and developed many highly valued wine-producing areas in Europe.
With the floods of European immigration in the early 19th and 20th centuries, modern industries were developed based on imported V. vinifera grapes. The main wine-growing regions of South America were established at the foot of the Andes. In California, the wine-growing center moved from southern missions to the Central Valley and the northern areas of Sonoma, Napa, and Mendocino.
At the beginning of the 19th century, European vines were planted by British colonists in Australia and New Zealand, and Dutch colonists took grapes from the Rhine region to South Africa as early as 1654.
Between 1870 and 1900, grapes were attacked by lice and phylloxera, in several regions such as America, Europe, and parts of Australia and California, which destroyed most of the vineyards. Following the recovery of the vineyards, European governments protected the reputation of large regions by adopting laws restricting regional names and quality classifications to wines produced in certain regions in accordance with strictly regulated procedures. Today, newer wine-producing countries have adopted similar rules.
Wine species and varieties
Vitis Vinifera, possibly originating in the Caucasus mountains, is the main wine - producing variety and most of the world 's wine is still produced from this species. Their natural sugar content, which provides the material necessary for fermentation, is sufficient to produce wine with an alcoholic strength of 10% or more; wines with less alcohol are unstable because they are sensitive to bacterial spoilage. V. Vinifera the moderate acidity of the ripened grapes of the varieties is also favorable for wine production; the acidity of the fruit is less than 1% and the pH is between 3,1 and 3,7 (slightly acidic).
Another factor that attracts winemakers to this variety Vitis Vinifera, is its composition. The berry pigment pattern ranges from light greenish yellow to red, pink, red, reddish purple or blue-black; The juice is usually colorless, although some varieties are pink to red in color, and the taste ranges from fairly neutral to strongly aromatic.
V. Labrusca un V. Rotundifolia species rarely contain enough natural sugar to produce wine with an alcohol content of 10% or more, and usually need extra sugar. Their acidity during maturity is often excessive, with a low pH level. Varieties of these species usually have a characteristic taste. Some consumers believe that V. Labrusca tastes are too pronounced due to methylanthranilate and other compounds.
Wine growing
Grapes, although different in temperate zones, can be grown in semitropic conditions. They are not adapted to the cooler areas of the temperate zone, where the growing season may be too short for the fruit to reach maturity, or where the vine or its fertile buds may be killed at temperatures below -7 ° C in winter. V. Vinifera is more prone to winter damage than V. Labrusca.
The climate strongly influences the composition of ripe grapes. The main reason for the differences between grapes in different areas is the heat that the vines receive during their growth. Other important factors: night and day temperature, differences in hours of the sun and soil temperature.
Grapes begin to grow in spring, when the average daily temperature is around 10 ° C. In order to reach maturity, they need to determine the amount of heat above 10 ° C during the growing season. This type of heat is called heat summation and is calculated by summing the average daily temperature above 10 ° C for each day of the growing season. Successful growth requires heat summation of approximately 1800 ° C. If the heat summation is less, the grapes will not ripen. This often happens in the eastern United States, Switzerland and other cool regions, it can be changed by adding sugar to chopped grapes. If the heat summation is much higher than necessary, for example in Algeria and the part of California, the grapes ripen earlier and with less acidity and color than those produced in colder conditions.
Seasonal conditions can also be critical, especially in regions with low heat summation, as in parts of France and Germany. When the growing season in such areas is warmer than usual, the fruit produced is ripe and more balanced than usual in the cold seasons. In warm regions, sweeter liqueur wines can benefit from a slightly low amount of heat, which means that they lose moisture and give better color and acidity than when the growing season is too warm.
This means that to have ideal grapes, you need the ideal temperature, so other wines are very and long cherished.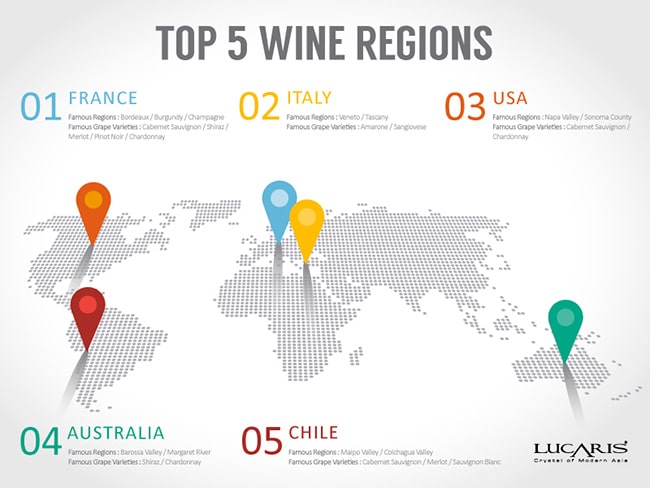 Wine regions and varieties
Almost all wines are labeled by region of production, fruit ripeness, grape variety or type of wine and year of production, and can still be distinguished by color, sweetness and aroma of the variety. Special characteristics are traditionally associated with certain wines, and in many cases these traditions are guaranteed by law.
Certainly everyone knows which of the wines or wines of these countries or regions produce wine, and certainly the wines and wine laws of France, Italy, Germany, the United States, Australia and South Africa. Many other countries produce huge quantities of table wine. In Europe, for example, Spain, Portugal, Switzerland, Hungary, Romania, Bulgaria, Greece and Georgia. Algeria, Tunisia and Israel are in North Africa and the Middle East. South America includes Brazil, Peru, Chile and Argentina. The largest producer in Asia is Japan.
Interesting facts about wine
Red wines are well attributed to the positive health benefits. This reduces the chance of a stroke.
For men and women who consume moderate alcohol, it reduces the risk of developing type 30 diabetes by 2%.
Believe it or not, there are some people who are afraid of wine. This is called "oenophobia".
Wine glasses should be held at the stem so that the hand does not raise the temperature of the wine.
For wine tastings, drink a sip of wine and hold it in your mouth for a few seconds, then either swallow or spit. This is an acceptable way to find out if it is a good wine. A good wine will have a long aftertaste.
Bottles labeled with animals are called "Critter Wine".
Women are more prone to wine exposure than men. This is partly because they have fewer enzymes in the stomach that are needed to simply break down alcohol.
To get the same amount of antioxidants as in wine, you will need to drink 20 glasses of apple juice or seven glasses of orange juice.
Usually red wine is served with red meat. White wine is served with chicken and fish. If you want to combine wine with dessert, sip sweet wine.
The saying "Joy" comes from ancient Greece. The host of the dinner sipped the first firewood to convince his guests that the wine was not poisoned.
The world's oldest bottle of wine was found near the town of Speyer, Germany. It dates back to 325 BC. and is on display in the city's historical museum.
If a man caught his wife drinking wine in early Roman times, he had the right to kill him. Women were forbidden to drink wine.
Hippocrates (c. 460 - c. 370 BC), also known as the 'father of medicine', used wine in many of his recorded remedies. He used it at lower temperatures and as a general antiseptic. It was a remedy he often used for the sick patients.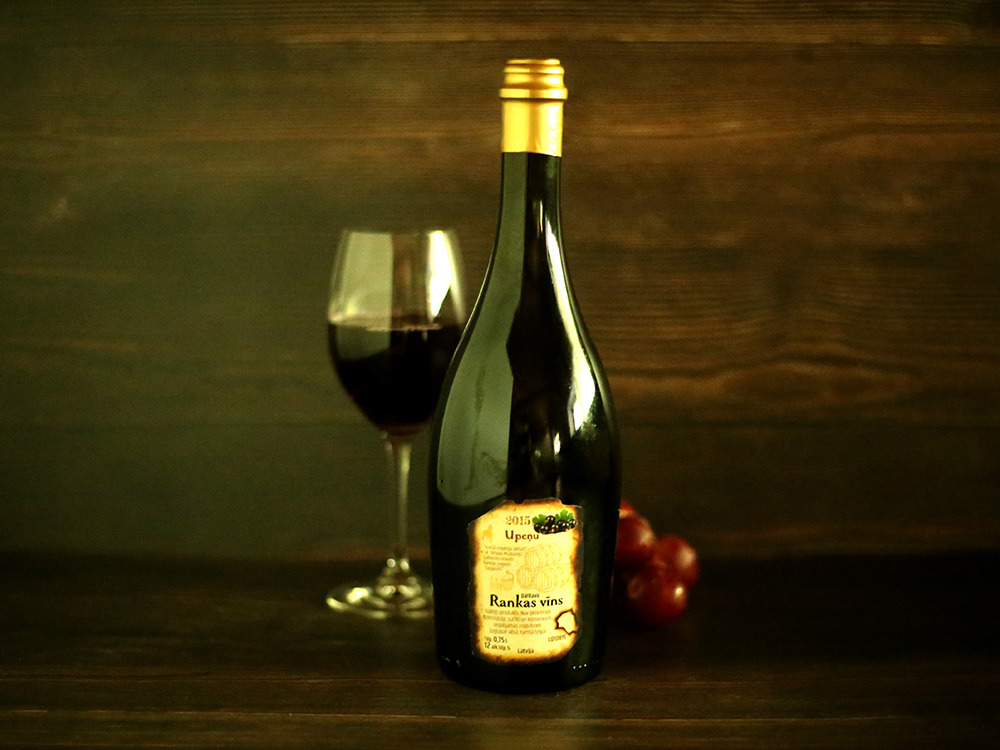 Wines in Latvia
Small and large family breweries make wine from local fruits and berries - apples, chokeberries, blackcurrants, rhubarb, quinces, raspberries, mountain ash… You will also find grapes grown in Latvia wine.
"Abava" wineries In summer, the owners of "Abavas" Winery show guests a vineyard, tell about winemaking and respect with seasonal wines and spirits.
Wine tasting is possible in a small factory "Durbe gifts", which also offers an exotic drink - dandelion flower wine.
Līgatne winery invites you to enjoy fruit and berry house wines in a cozy and romantic atmosphere in a sandstone cave - Lustūža cliff cellar.
Winery "Zilver" the owner offers to see the cozy brewery, enjoy the wines and also what "stronger" - apple wine distillate. Maybe you will be able to taste something special - cloudberry, lilac and dandelion wine, which is made in small quantities.
In the Liberty birch juice and wine cellar, the owner will tell, show and allow you to taste everything made from birch sap, including wine and what is stronger.
In the winery "Drubazas" in Sabile you can taste Sabile grape wines. Sabile Wine Hill was once recorded in the Guinness Book of Records as the northernmost vineyard, where grapes grow in the open air. Now this honor has been given to the Norwegians.
Smiltene cider factory "Abuls"taste handmade Latvian apple cider and pine forest berry wine.
Hands Wine, wine without sulphites and without preservatives. An all-natural product for Latvian wild berries.